General: Visit London, stay at Arran-House for the New Year
Posted by
Arran
on 2014-01-01 00:00:00 UTC
American Buffalo at Wyndham's Theatre
From to
Damian Lewis returns to the West End stage to star in a revival of David Mamet's gripping 1975 play American Buffalo.
Starring alongside Lewis are Golden Globe and Emmy Award winner John Goodman and the Tony nominated actor Tom Sturridge.
Directed by Daniel Evans at Wyndham's Theatre, American Buffalo is an explosive drama examining the fickle nature of honour among thieves.
As three small-time crooks, Walter "Teach" Cole (Lewis), Don Dubrow (Goodman) and Bobby (Sturridge) plan one big-time heist, a tragedy of errors spins this razor-sharp and darkly funny play into a blistering account of divided loyalties, insatiable greed and a coveted Buffalo nickel
Director: Daniel Evans
Easter excitement this year
April 3th 2015 to 6th April 2015
There are plenty of things to do in London at Easter; whether you're looking for Easter egg hunts, Easter holiday activities for children or religious displays. Here's our pick of top Easter activities and events in London - your Easter weekend starts here!
Easter Services and Performances
Learn about the story of Easter at Trafalgar Square on Good Friday, as a live, full-scale re-enactment of Jesus' crucifixion is performed by a cast of 100. The Passion of Jesus draws tens of thousands of onlookers of all faiths for its two performances; so get there early to secure your spot. There will also be church services throughout the Easter Weekend, including at St Paul's Cathedral, Westminster Abbey and St Martin-in-the-Fields.
Discover New Arrivals
Go in search of new arrivals as the season brings offspring in all shapes and forms. Learn more about the recent additions at ZSL London Zoo; keep an eye out for new life at SEA LIFE London Aquarium; or head to one of London's city farms to get up-close-and-personal with the newborns. As well as finding new hatchlings, you can also go on a Giant Easter Duck Hunt at the WWT London Wetland Centre.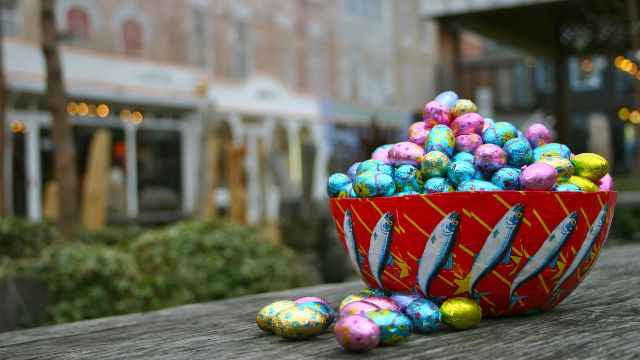 London Easter Egg Hunts
If you'd like to get your hands on chocolate goodies, embark on one of London's Easter egg hunts. You could be looking for decedent delights under the watchful eye of the Easter Bunny high above Kensington at The Roof Gardens, keeping an eye out for eggs amongst the market stalls at Covent Garden's Jubilee Market, or going on an egg exploration at Gabriel's Wharf. Also, make sure not to miss these London chocolate shops for their cocoa-based confectionary.
See a West End Show
It's the school holidays, so why not take the kids out for an evening of live entertainment at one of London's top musicals. There are plenty of Easter chocolate treats available at this time of the year, so it's the perfect time to discover a wonderland choc-full of deliciousness in the stage version of Roald Dahl's Charlie and the Chocolate Factory.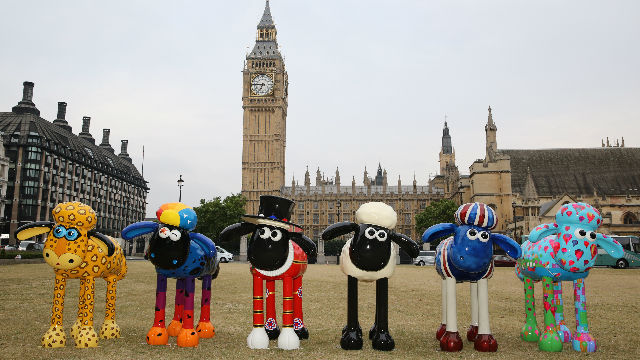 Follow Shaun the Sheep
Be a sheep and follow the flock by discovering unique Shaun the Sheep statues on the Shaun in the City trail. Each carefully designed by celebrities and artists, the statues will be popping up in iconic London locations to mark the release of the Shaun the Sheep Movie. Kew Gardens is going Shaun the Sheep crazy this Easter with a range of family-friendly events dedicated to the loveable Aardman character.
Springtime Sightseeing
The golden spring light provides the perfect backdrop to London sightseeing. Chocolate tasting experience on the Coca-Cola London Eye. You can also see the sights on an open-top bus tour, or venture onto the water on a London Duck Tour.

Breathe in the Spring Air
The Easter weekend is the first bank holiday of spring, so what better way to enjoy the extra day than by exploring London's outdoor attractions? Carefully wade through daffodils and crocuses in London's parks, which are swathes of greens, yellows and purples at this time of the year. Or learn more about seasonal plants at London's gardens; including a special springtime trail at Kew Gardens.
Easter Weekend Dining
There's more to Easter fare than chocolate eggs, hot cross buns and simnel cake. Tuck into a traditional roast dinner on a sedate trip through the verdant Lee Valley Regional Park during a Easter Sunday lunch cruise. If you'd rather eat on dry land, there are plenty of tempting seasonal offers: enjoy three courses plus a glass of champagne for £29 at Babylon at The Roof Gardens; share an eight-plate Indian feast at Cinnamon Soho with a cocktail for £24 per person; or savour the riverside views at La Pont de la Tour over three courses (plus a cocktail) for £25.
Rugby World Cup 2015
From 18 September 2015 to 31 October 2015
Rugby World Cup 2015 is a nationwide tournament with 20 teams playing 48 matches in 13 venues across the UK.
London is set for a spectacular six weeks of rugby, hosting 17 matches, with the World Cup Final taking place at Twickenham Stadium on 31 October 2015.
Tickets are available from £7 for children and £15 for adults. With more than 2 million tickets having gone on sale, it is one of the most accessible Rugby World Cups ever. Tickets are currently being sold on a first-come first-served basis on the official Rugby World Cup 2015 ticketing site, and will remain on sale until they sell out.
For the full match-schedule and ticket prices for all RWC 2015 matches you can visit the official Rugby World Cup Ticket Portal. Start planning your tournament now!
tell a friend :: comments 0
---