Easter Weekend in London 2014
The Just So Stories are brought to life at Pleasance Islington between 8-25 April. Perfect for children aged 4+ "Cushions, pillows, and duvets await for your little ones to snuggle into and watch in wonder as ordinary household items are turned into an entire world of magical storytelling on stage in front of them." Shows at 11.30am and 1.30pm. Tickets £10 adults, £7 conc.
There's free play in Gillett Square, Dalston every day between 8-25 April between 2-5.30pm.
Visit Battersea Park Children's Zoo between 9-24 April and for an extra £1.50 the kids get a quiz sheet for an easter egg hunt. Zoo admission adults £7.95, kids £6.50. NB this place has ring-tailed lemurs, hoorah!
Museum of London has a whole raft of creative free sessions for families between 9-25 April including puppets, seasonal story telling about Spring Heeled Jack and a focus on things Victorian. Over in Docklands learn about the tiger of Wapping, look at bones and make peg pirates.
Kew Gardens takes the chocolatey approach to the Easter holidays with chocolate workshops, tours and trails, a focus on the cocoa tree, chocolate sculptures and an Easter Egg hunt between 9 April – 2 May. Admission charges apply.
Send your over-8s to Kentish Town City Farm to help muck out and work on the farm. Over Easter Weekend, reward them with pony rides, egg blowing and decorating and a treasure hunt.
In south London, Deen City Farm in Merton Hall Park also runs a Young Farmers Programme over the holidays and their first lambs have already arrived. Visiting the farm is free.
Throughout the Easter holidays the Grant Museum is exploring the world of 'eggy' animals. Beyond that, there's lots more to see in their new home. Between 11-20 April the museum will be open Monday to Friday, 1-5pm. Admission is free. Find the museum's new home at Rockefeller Building, University Street, WC1E 6DE.
Family fun at London Transport Museum revolves around the new bus for London between 11-25 April with workshops, storytelling and dressing up. The family workshops are free but there is an admission charge to the museum.
CoolTan Arts lead the free Mad Hatters Walk, exploring perception and delusion round Southwark whilst sharing April fools, hoaxes, jokes and tales and sending the kids on an Easter egg hun in the park. Part of Southwark's Silver festival for older people, grandparents and grandchildren are encouraged to join the walk which starts at 12noon on Saturday 16 April at the Maudsley Hospital, Denmark Hill, SE5 8AZ, and ends at Tate Modern on the Southbank.
Spitalfields City Farm runs an Easter Playscheme for 8-13 year olds between 18-21 April.
If you've got older children, could they handle the thrill of Lee Valley White Water Centre, which opens on 22 April? If not, Lee Valley Park Farm has got Petunia the Pig to mastermind an Eastery quiz and Easter egg hunt between 22-25 April. Farm entry: adults £7.50, kids £6, family £5 per person.
There's a fun fair at Hampton Court Palace. This fun fair has happened at Hampton Court every year for 150 years, even during the two World Wars. Free admission and low cost for rides between 22-26 April.
Wimbledon Lawn Tennis Championships 2014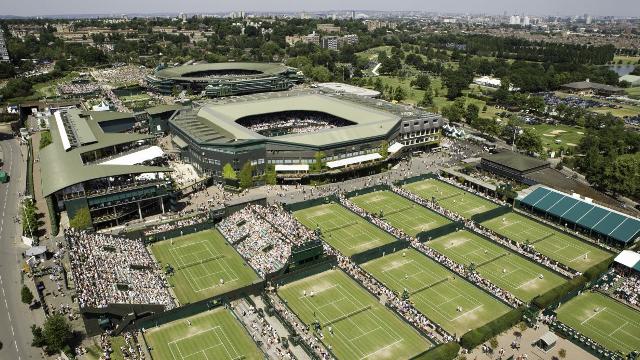 The world of tennis descends on Wimbledon in South West London every summer for two weeks of tennis, strawberries and cream, and good-natured queuing.
Wimbledon is one of four annual Grand Slam tennis tournaments held around the world. It's the world's longest-running and most prestigious tennis tournament. Games are still played on the original playing surface, grass, and there's a strict white-only dress code for players.
The tournament attracts around 500,000 spectators and millions of television viewers worldwide.
During the first week, the early rounds of the Singles and Doubles matches are played, with the top seeds playing on Centre Court and Courts 1 and 2. The Ladies' and Men's Singles Finals take place over the final weekend of the Championships.
Wimbledon Tickets: In Advance
Advance tickets for Wimbledon are allocated via a public ballot, which was first introduced in 1924. The ballot is always oversubscribed, so entry does not entitle you to tickets. Successful applicants are selected at random by computer. It is not possible to request tickets for specific days or courts.
Wimbledon Tickets: On the Day
Almost uniquely for a major sporting event, Wimbledon offers spectators the chance to buy premium tickets on the day – but be prepared to queue!
During the tournament, 500 tickets are available on days one to nine for Centre Court and No.2 Court. Approximately 500 tickets are available on all 13 Days for No.1 Court. You should expect to queue overnight for a chance to buy one of these tickets.
Several thousand ground admission tickets are also available each day. These give you the chance to watch games from the No.2 Court standing enclosure and from unreserved seating and standing on the outside courts, and on the big screen at Henman Hill. Once ground capacity has been reached, queuers are admitted on a one-out, one-in basis.
History of Wimbledon Lawn Tennis Championships
The Lawn Tennis Championships at Wimbledon have developed from the first meeting in 1877, witnessed by a few spectators, to a highly professional tournament attracting an attendance of close to 500,000 people. Players from more than 60 nations compete in front of a crowd of millions worldwide, through the press, radio, internet and television.
Practical Information